My Beloved and I have been working on something new over here in the ministry and today I get to let the cat out of the bag!   Before I left for the She Speaks Conference I was planning to launch this new program when I got back home.  While I was away, one of the things God gave me clarity on was this exact aspect of the ministry.  Yay!  I love it when the Lord confirms ideas that you've got swirling in your brain and your heart is being stirred to move forward and then the Lord sweeps in and says, "Yes daughter, this is of me and I created you for this sole purpose."  It was a great God moment for me when that revelation came.

God doesn't leave me hanging when I ask Him what path I should take.  Now, He may want me to learn a bit of patience, self-control, trust and faith in the process, but my Savior never forgets His daughter nor the petitions I have brought to Him.  And He's not leaving you hanging either so don't lose heart with whatever you're facing today!
Now back to this new ministry project.
Before I left for the conference I shared with you that I needed to take a break from blogging, but one thing you did not know about is all of the emails that were already lined up in my inbox from readers asking me questions as they were seeking counsel.
Just so you know, it was SO hard for me to not respond to the requests.  If you could see inside my heart you'll find it beating fast with the reading of each email because that right there is my passion.  I'm a one on one kinda gal and I truly want to help encourage and equip God's precious daughters with whatever they are facing.  Many times upon reading the emails I would literally weep and I'm not talking about crying over the big stuff like affairs or abuse in marriage, but the small stuff as well, like should I date this guy if he's not a believer.
So I went to my Beloved and shared with him my frustration in the ministry hoping he'd have some insight for me.  I know God has called me to write some books and to blog, and I know I can't do it all, but if there is one aspect of this ministry that I'm certain God wants me to serve in it's that of  'Ask Jolene' (creative name, isn't it!) the part of this ministry where women write in with their questions and I answer with biblical counsel.
I've tried responding to these emails via video hoping this avenue will lighten my load, but doing videos actually takes a bit of work because well, I need to do my hair and my hair is high maintenance!

 No, really since I struggle with chronic fatigue, it's really hard for me to pull off having the kind of energy needed to tape a video.
So my man came up with a brilliant idea.  He suggested I respond to the questions via audio, kinda like a podcast.
So that brings us to Ask Jolene Radio. (I know, another creative title.  Hey, I never said I was a marketing expert!)  This is the avenue I will be answering the majority of questions that I get from readers and I'll be starting the program this week!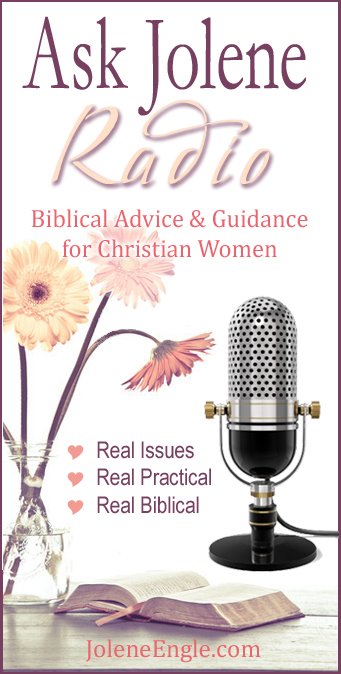 How to ask a question.
If you have a question you'd like me to answer, please only leave a question here and follow the steps.  Please do not ask me a question on my Facebook page or via the email I sent to you through my blog post.   I need to streamline the process as much as possible because of the volume of questions that I receive.
If you've asked me a question and I haven't answered yet, just hang tight because I'll be getting to it asap, seeing how I can talk much faster than I can write a blog post!


Live a poured out life for Christ,

Now bloggers, it's time to link up your posts!
I'm looking for posts on any and all things related to being a wife, i.e. homemaking ideas, ways you minister to your husband, dating ideas, and/or hearing what the Lord is telling you about your most important earthly relationship!
Link back to this community, either by using the button below or a text link.  Link to your actual post, not just your general blog address–that way if readers come by later in the week, they can click your relevant post.