I'm in pursuit of these 12 things and I will be unto death do us part. And the reason why is because I want to honor my Lord with my marriage. These 12 ways are by no means easy, but they are God-honoring, and with the help of the Holy Spirit, we can do all things through Christ who strengthens us, right?
The 12 Ways of a Godly Wife
1. To love him. I study him to find out what makes him tick. I seek out ways and ask him questions to find out what makes him feel loved by me the most, and then I pursue those ways. (Titus 2:4)
2. To respect him. He just so happens to flourish as a man when I respect him. And I happen to think a flourishing husband is much better to live with than a husband who is wilting. (Eph. 5:33)
3. To be his lover. It's why I married him and vice versa. (1 Cor. 7:2-5)
4. To be a wife he can trust. He's given me his heart, so I want to handle it with care. (Prov. 31:11)
5. To build him up and encourage him. It's a great feeling when you are encouraged and supported by the one you are the closest to, the one you share your bed with, and the person the Bible calls you one flesh with. (Prov. 14:1)
6. To be his friend. Life is always much more enjoyable when you can go through it with a friend. One you can lean on, depend on, dream with, as well as laugh with. (Prov. 27:17)
7. To fight the battles of life with him rather than against him. Life is hard enough as it is that I don't need to be his enemy or cause him to stumble when the battle is raging on. But rather I seek to be his co-warrior in the faith. (Eccl. 4:12)
8. To bear his burdens. Even though he is a man, that doesn't mean he is made of steel. He's got issues and struggles just like me, although some of them are unique to being a man. So I want to be the kind of wife who listens to him and prays for him. I want to be a compassionate wife. (Galatians 6:2)
9. To forgive him. If a marriage is going to thrive, forgiveness needs to be at the core of it. I happen to want a thriving marriage. (Matt. 18:22)
10. To be more concerned about my sin rather than his sin. It's not always easy to be a gracious wife, but it is right in God's eyes. Therefore, I do my best to pursue this virtue. (Matt. 7:5)
11. To be a content wife rather than a complaining wife. I'm not sure that I have anything to say about this one, except that less is more. Less talk will cause me to be more content. Have you ever gone a whole day without complaining? I have and I failed miserably! Pursuing the things of the Lord rather than the things of this earth will give me a content heart. (Phil. 2:14)
12. To be a discreet wife. I don't need to be talking smack about him or sharing his sins with the world. I personally wouldn't want him sharing with others how I continually fall short. (Titus 2:5)
In case you want to print this out, I've made a printable for you. Just click the link below.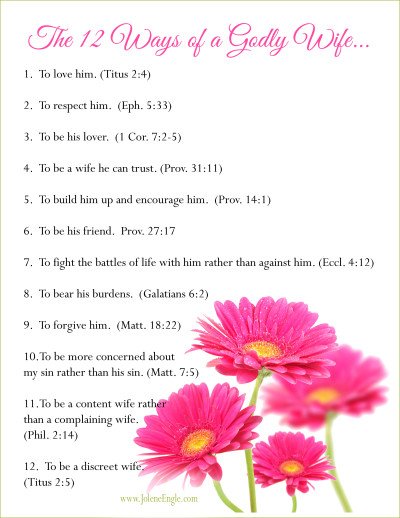 Live a poured out life for Christ,
Jolene Engle

Need some encouragement and guidance in your marriage? Grab my latest book, Wives of the Bible: 25 Easy Lessons You Can Learn from these Imperfect Women that Will Radically Transform Your Marriage.