Whether you're a single woman or a mama raising up your kiddos, here are a few things I share with my kids about what to consider regarding their future spouses. But first, I have a reader who's got a question regarding her relationship.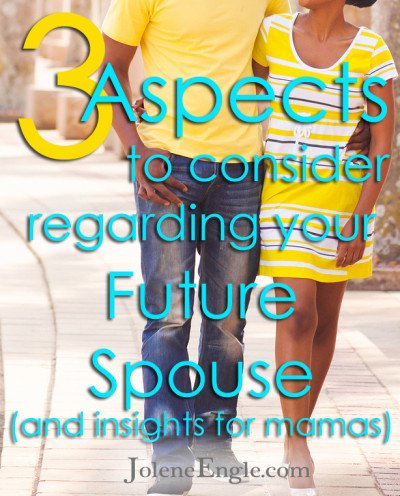 Dear Jolene

I have been dating this fellow for a couple of years now and there is talk of marriage in our near future- which is something I kept in mind as I went into the relationship. I love my boyfriend and he will be a wonderful spiritual leader in our house, but I am conflicted because we have different "lifestyles" I guess you could say. I think staying healthy is important. I try to eat healthy and exercise when I am able to. My boyfriend does not share my opinions on staying healthy and he likes to eat whatever he wants, whenever he wants, and he rarely exercises. I am worried that when we get married he will not like that I fix vegetables or nutritious meals for him. Instead I fear that he will go and order a pizza. We have tried to work through this and meet in the middle, but lately he has just been too stubborn and/or bitter to even try to work things out. How can we merge the different parts of our lifestyles together to be one?
3 Aspects to Consider Regarding Your Future Spouse
1. Their Character
Is it Godly or worldly? Are they on fire for Jesus Christ or are they a carnal or lukewarm Christian? Is Jesus Christ the Lord of their life? Do their words and actions reflect this? Is there enough evidence in their life that if they were on trial for being a Christian, would they be prosecuted?
A non-negotiable for a future spouse is the lack of Godly character. Don't settle one iota in this area! Sure, extend grace when they fall short (because everyone does), but don't continue on in the relationship if they're lukewarm in their faith or if they're an unbeliever.
Don't team up with those who are unbelievers. How can righteousness be a partner with wickedness? How can light live with darkness? 2 Cor. 6:14
2. Their Personality
Is their personality similar to yours or are the two of you complete opposites? Introvert and extrovert? Mr. Clean and Miss Messy? Laid back or a go-getter? These opposites will naturally cause friction in your marriage. My man and I are two peas in a pod but we are still very different because we're male and female. These differences alone complement the two of us and make us better individuals. But because our personalities are similar, this has brought a great amount of understanding and harmony into our marriage. And who doesn't like harmony in a lifelong relationship? 🙂
When it comes to someone's personality, generally we are drawn to someone who is the complete opposite than we are. Perhaps it's because one person's strengths might be our weaknesses and vice versa. When a relationship is new, this aspect looks wonderful. But over time, maybe their introverted ways might rain on your outgoing parade? Think long term when it comes to their personality. What is it about them that irks you? Can you live with it for the rest of your life? Are you willing to marry them even if you can't change them? By the way, you should never set out to change your future spouse. It's one thing for a wife to have influence over her husband (which we do) but it's another thing to want to change something about his personality that we don't like. Remember, God is the one who made his personality. And God deemed it as good.
Again, extend grace when you don't understand them or when they do things differently than you do, but if you're constantly changing to appease them, (or vice versa), then I'd reconsider moving forward in the relationship.
3. Their Disciplines/Habits/Lifestyle
Every couple will have differences. Different upbringings. Different standards of living. Different habits and disciplines. When you marry, you should seek to become one flesh, merging two lives into one. You should become better and stronger in the Lord as a couple than as a single person. But if they are not wanting to change or compromise for the sake of the relationship, then you need to ask yourself if you're okay with that. Are you willing to change for the sake of the relationship?
Out of the 3 areas I covered today a person's disciplines/habits/lifestyle is the area where a couple should compromise the most because the other two are more important to a lifelong, thriving relationship.
For example: If you've got a great Godly guy whose personality fits you like a glove but you own a cat and he's allergic to cats….do you keep the cat or keep the guy? Are you willing to compromise your lifestyle for him?
Are his habits, disciplines, and lifestyle a deal breaker? Only you can decide this. If something is so important to you, are you willing to let it go in your life for the sake of your marriage? If not, then you'll need to reconsider if you should keep dating him. Often times, a woman will have the propensity to want to mother her man. We are nurturers by nature, but sometimes this leads to us scrutinizing and criticizing our man, instead. These actions scream disrespect to your guy.
Extend grace when he's trying to change or meet you half-way and he blows it again and again, but be mindful of habitual lifestyle choices that really bother you (and most importantly the ones that are contrary to the Scriptures).
My reader's ultimate question was this: How can we merge the different parts of our lifestyles together to be one?
My answer: You can't. I know that sounds harsh and bleak, but you've already tried sharing your heart about your concerns and he's tried to change. You've tried to hold him accountable and now he's becoming bitter. (By the way, you can only hold someone accountable if they want to change, otherwise, you're mothering him and he'll resent you for it.) You either accept your differences or you don't. Unless the two of you are willing to compromise for the sake of each other's preferences, things won't change. Each person has to have the desire to please, accept, and/or change for the other.
I would suggest having more conversations with him about your concerns, and then either learn to let the issue go or let him go.
In every healthy and thriving marriage, each spouse is considering the needs, likes, dislikes, temperaments, short-comings, etc. of the other spouse.
Now it's your turn. What else can you add to this list?
Live a poured out life for Christ,
Jolene Engle