Question from a reader…….
Dear Jolene,
I am 22 and a newly married woman and my husband and I got married in July of this year.  He comes from a Jewish background and he accepted the Lord into his heart around 1 1/2 years ago to 2 years ago. He is still very new to the Lord.  I was raised in a Christian family.  I accepted the Lord into my heart when I was 6 and stood firm for a while but then reached high  school and university years and drifted away.  I have come back to the Lord and am walking with him, and trying to grow with Jesus now that I am an adult.
One way we really need to work on our marriage is spending time with the Lord together. We will wake up have breakfast and then sit down and read separately in the bible and then come together at the end and share a little about what we read and then read our daily "Utmost for His Highest" devotional.  However we always end up bickering about something. I guess because I am from a Christian family I just know more about the scriptures or I don't know.  I don't like saying it like that but anyway I have walked with the Lord longer and have had all of His teachings around me pretty much my whole life. But my husband hasn't and so I guess because of that he voices his opinions and sometimes it freaks me out because they won't be right on track with what the Bible says. Or not even that, sometimes he just won't feel moved about what we've read or he feels like me voicing my opinions or what I thought of our devotional makes him a bad leader. He doesn't feel like he's being a leader.  I just need advice.  I feel discouraged and he does too and then I just feel fruitless.
~frustrated newlywed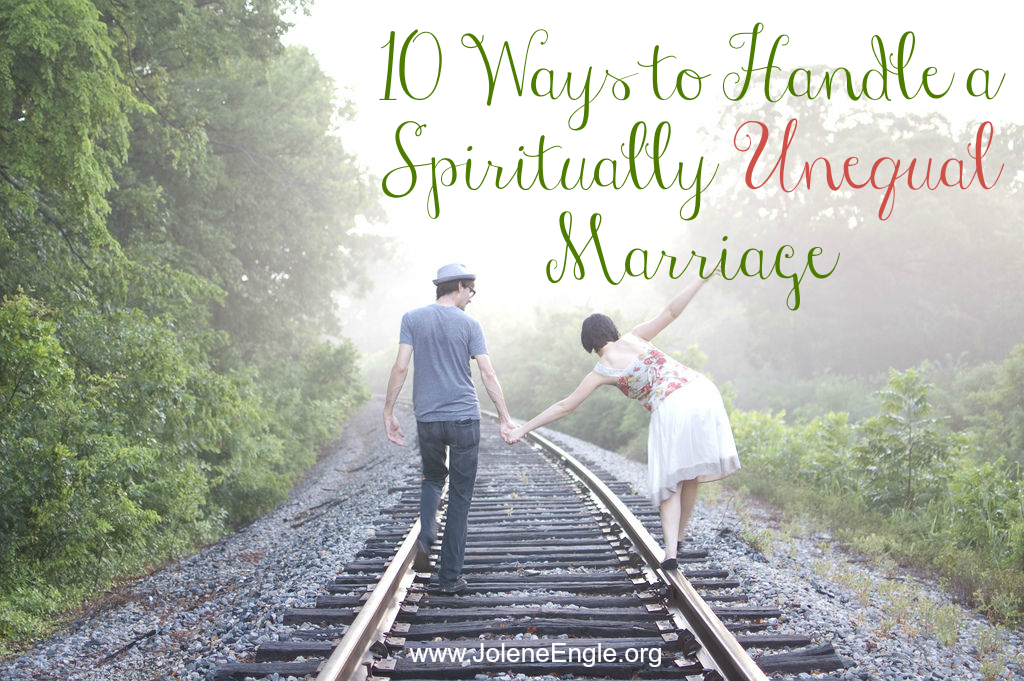 Dear frustrated newlywed,
First of all, you are a wise wife to seek counsel in this very important aspect of your marriage, so I applaud you for your courage and your willingness to learn.  With that being said, I'm sure you're in a tough position being that you know the Scriptures better than your husband even though he is the head of the home.  It can be difficult for any wife to follow a husband when she knows more than he does.
I see you as a wife who is walking a spiritual balance beam in your marriage; a wife who does not want to forsake or compromise the Truth and be led astray, but also one who wants to follow her man.
So what's a wife do to in this situation?
In this post I'm addressing a wife who is married to a man who is not as spiritually mature as she is, as opposed to a wife who is married to an unbeliever.A wife who has a deeper understanding of the things of the Lord or 
one who has a deeper faith in Christ
 can better her marriage by influencing her man to draw closer to Christ through her gentle and quiet spirit (1 Peter 3:1), rather than having theological debates with her man.
10 Ways to Handle a Spiritually Unequal Marriage
Follow your husband's leadership as long as he's not causing you to sin or leading you into sin.
Be careful that you don't spiritually emasculate your husband.  Keep in mind that a man's ego is very fragile!  He needs you to build him up and let him know you respect and admire him for leading you in spiritual matters.  If a husband feels he's not measuring up to your standards, he will either lash out in anger, bicker with you, and/or pull away from the activity at hand.
Your husband needs you to be his encourager, not his mentor.  Let the Holy Spirit mentor your husband and continue to pray for the Lord to bring a God-fearing man into his life.  The wife's role of helpmeet does not mean we are our husband's Holy Spirit.
Build upon your Christian foundation.  Talk about the things the two of you understand and go from there.  Don't major in the minors in your spiritual life.  It's no big deal if he doesn't want to follow Oswald Chambers or any other human being for that matter.  What's important is that he wants to follow Jesus Christ.  Change devotionals and have him choose the one that he wants to lead you in.
Learn to walk the spiritual balance beam in your marriage.  Ask your husband spiritual questions.  Find out what he is learning and listen to his heart.  But just listen, don't teach him.  This is not the time to drill him in his knowledge of the Scriptures or have a spiritual debate.  Even if your man knows the Scriptures like you do, that does not mean he'll feel the same way about them as you do.  God moves in all of us but in different ways.
Be discerning and don't give room to the Enemy in your marriage.  When a wife (or really anyone) has more spiritual understanding than someone else, you need to be careful that you don't go through life with a spiritual arrogance about yourself.  This type of attitude will turn anyone away from you.
Instead of pointing out what is wrong with your man's viewpoint of the Word, take your knowledge of the Scriptures and extend God's grace and love to your man as he continues to grow in the Lord.  Remember that your husband is a weaker, brother in the Lord. He needs encouragement to flourish in Christ rather than nit picking that can cause him to stumble.
In time, when he feels like a strong, spiritual leader and he doesn't feel like you're criticizing and condemning him, he will allow you to sharpen him as iron sharpens iron. (Proverbs 27:17)
Be thankful that your husband has a desire to grow in the Lord, rather than a man who could care less.
Continue to lean on the Lord for balance in this situation.  Surrender to Him and He'll guide you.
It sounds like both of you are growing in the Lord, but in different ways.  Your husband may be growing in faith and knowledge and you may be growing in self-control and brotherly kindness.
But also for this very reason, giving all diligence, add to your faith virtue, to virtue knowledge, to knowledge self-control, to self-control perseverance, to perseverance godliness, to godliness brotherly kindness, and to brotherly kindness love.  2 Peter 1:5-7
Now how about you?  Are you living in a spiritually unequal marriage?  What do you do to handle the delicate balance of following your man even though you have a deeper understanding of the Scriptures?
Live a poured out life for Christ,