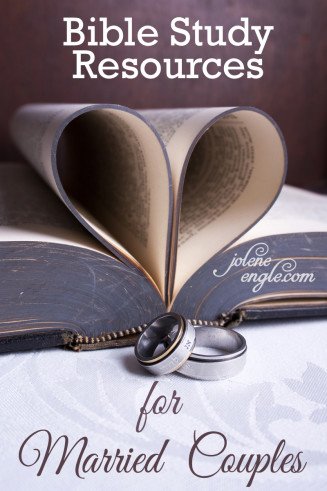 Sometimes walking into a Christian bookstore can be quite overwhelming.  Not so sure of what book to grab?  What study you should do?  And sadly, not all books in a Christian bookstore are biblically sound.  Many times we'd just like to have a trusted friend give us a recommendation.
Which brings me to why I'm sharing these resources.  I've been asked about Bible study resources for married couples and I thought I'd share a few of them here with you.  Perhaps your man would be willing to get together with a few couples and you can do these studies together?  Or, these studies could be a time for just the two of you?  Either way, I know these studies will help you and your man grow closer together and closer to the Lord.  Maybe these books will serve as a nice Christmas present? 🙂
A Marriage Without Regrets by Kay Arthur
Build your marriage God's way – without regrets. This study guide to A Marriage Without Regrets will lead you through the book with a chapter that corresponds to each chapter of the book. The lessons will help prompt discussion, encourage reflection, and provide application of the main points. Ideal for individual or group study.
Personally, I've only done Kay's inductive Bible studies in regards to my own walk with the Lord, but I felt this book would be a great resource for a married couple.
The Marriage You've Always Wanted, Bible Study by Gary Chapman
From the New York Times bestselling author and international speaker comes this interactive, practical resource designed to help couples grow closer to each other, and closer to God. Couples will discuss and reflect on such areas as money, anger, forgiveness, and spirituality, all in an easy-to-use workbook format. Learn how to share yourself fully with your spouse and express love in a meaningful way. Formerly titled A Couple's Guide to a Growing Marriage. Ideal for personal and group study, and includes an updated resource list at the end of the book.
Gary Chapman is the best selling author of The 5 Love Languages which was such a helpful book for me!  I encourage you to grab this study if you want to build a healthy marriage. 
Sacred Marriage: What If God Designed Marriage to Make Us Holy More Than to Make Us Happy? DVD and Participant Guide
In this six-session small group Bible study, Sacred Marriage, writer and speaker Gary Thomas invites you to see how God can use marriage as a discipline and a motivation reflect more of the character of Jesus. Your marriage is much more than a union between you and your spouse. It is a spiritual discipline ideally suited to help you know God more fully and intimately. Sacred Marriage shifts the focus from marital enrichment to spiritual enrichment in ways that can help you love your mate more. Whether it is delightful or difficult, your marriage can become a doorway to a closer walk with God. Everything about your marriage—from the history you and your spouse create, to the love you share, to the forgiveness you both offer and seek by turn—is filled with the capacity to help you grow in Christ's character. In addition to life-changing insights, you'll find a wealth of discussion questions in the Participant's Guide that will spark meaningful conversation in your group, between you and your spouse, or to simply ponder by yourself. You'll also find self-assessments, activities and highlights all created to help you engage deeply and prayerfully with the content of this study.
Gary's writings are deep and sometimes they're so deep that they hurt my head!  But nonetheless, what he writes regarding a Christ-centered marriage is spot on! 
Marriage: From Surviving to Thriving: Practical Advice on Making Your Marriage Strong by Charles Swindoll
The world has changed, and it's going to keep changing.
That's no big revelation, but we cling to the fleeting hope that we can return to the gentler, more stable days gone by . . . especially where our marriages are concerned. But the truth is, we can't, because as the world changes, so do we, and so do our marriages.
Let's face it: marriage and the home have altered drastically through the years. Men afraid to be men. Women ashamed of being women. Children unsure of who's in charge. Blended and not-so-well-blended families. Homes that have become battlegrounds. And all of it so unstable, so temporary.
In the face of these depressing facts, beloved pastor and Bible teacher Chuck Swindoll offers a refreshing dose of hope and practical help for marriage. His sage advice, based on the Bible and his own fifty-year marriage, shows us how to move our marriages from just surviving to actually thriving. And that target can be hit dead-center if we rely on God and His Word as our marriage counselor, our guide, our glue.
This book will help any married couple no matter their stage or season of life.
And some day you'll see a resource from me and my man.  Yep, you've read that right.  It's something we've talked about and we know it would benefit couples, but it's just not our season to write it at this time.  For now, these will have to suffice!
(Fyi:  I don't get paid for sharing these resources.)
Any other great Bible study resources for married couples that you can add to this list?  Please share in the comments!
Live a poured out life for Christ,
Need some encouragement and guidance in your marriage?  Grab my latest book, Wives of the Bible:  25 Easy Lessons You Can Learn from these Imperfect Women that Will Radically Transform Your Marriage.