Using Social Media for the Glory of God?
My sweet friend, Laura over at
Beholding Glory
, along with her friend Angie Pratt recently wrote a short ebook called,
Reach
,
How to Use Your Social Media Influence for the Glory of God,
and Laura asked me if I'd review it for her.
First, I want to say I'm so thankful I did read this book because it really spoke to this non-technical person's heart! I'm not good at Social Media, at all. Perhaps if I were 20 years younger, then I think the whole social media thing wouldn't be so difficult to learn and get involved with. But being that I'm in my 40's, it's been quite challenging for me to embrace and learn this new concept.
Please don't ask me how to use Twitter because I'm challenged by that platform!
Anyways, I entered into the Social Media world when I accepted a friend request for Facebook many years ago. As I read the email I thought,
"Well, I know that person but what in the world is Facebook?"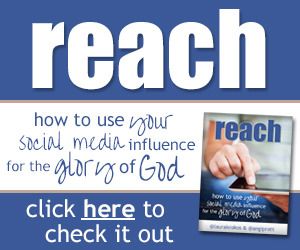 I didn't do much or really anything with Facebook until the Lord called me to write on His behalf. His calling was clear but what wasn't clear was how to go about answering His call. I really didn't know what a blog was and I certainly didn't know how to write a book but I knew I was suppose to write to my Audience of One. So I decided it would be easier to start a blog and that's where this one came from!
Because I do ministry via on-line, this is when I really entered into the world of social media. At that time it was March of 2010, and I didn't even know what the term "social media" meant! I had a lot to learn and am still learning how to use social media to bring God glory. However, I firmly believe that Twitter is just too complicated for this gal to figure out. Lord knows, I've tried!
I also found that learning social media could be so overwhelming, and on top of all that, you could also feel extremely isolated when doing ministry on-line. It's easy to think you're not making an impact since you don't 'see' the people that you're ministering to.
So this brings me to the book…
I read Laura's and Angie's book when I was having one of those moments asking myself if what I'm doing for the Lord is really making a impact for His Kingdom. And the words that these two women wrote really ministered to my heart!Because social media is a new thing and because it's a non-traditional way of doing ministry, it's easy to second-guess your impact. So that's why I really appreciated this book!
We have access to the biggest and most diverse mission field ever- people from every continent, every age group, both genders, and diverse economic and cultural backgrounds, who are logging in to the internet daily. Over 2 billion users log onto the internet regularly. Not to mention, the use of social media is on the rise. In a single day, approximately 700,000 people join Facebook and 300,000 people join twitter. Each day your mission field is being expanded by up to one million people! ~excerpt from REACH
These numbers really put things into perspective regarding how social media can advance the Kingdom of God!
The book discusses the 5 'P's' below:
The Potential that social media brings to our world today.
Principles–Imagine the impact of hundreds of thousands of people using social media to brag on God: people using their influence to make God seem like the greatness He is. ~book excerpt
The Pitfalls that we can experience
Practical examples of Twitter, Facebook, Pinterest, etc are all given
And Partnering with others as you use your influence to bring God glory
Since I'm a blogger, this book spoke volumes to me, however, you don't need to be a blogger to benefit from reading REACH….For example, if you're on Pinterest, instead of posting just do-it-yourself crafts or recipes, you can pin some of the following:
Pin evangelistic and apologetic articles (See appendix for ideas)
Pin stories of God coming through and showing off. You can also pin faith-building articles that will help people grow in their relationship with the Lord.
Pin helpful books that help people know God more. ~excerpt from REACH
If you're on Facebook, you can leave a scripture of the day for your family and friends. REACH addresses 12 different ways you can use this platform for God's glory.
If you're on Twitter…..I have no idea what you should do or how you follow that thing! (smile) But REACH does address this social platform as well!
Perhaps you're hesitant to get involved with social media because you don't see the benefits of it. I can understand that because I felt the same way. However, REACH shares several stories of evangelism and discipleship that have happened world-wide! It really is quite moving to see how God uses people from behind the computer screen to minister to another human being from across the globe.
From my own personal experience I have met people from all over the world! I have chatted in Facebook, (something I did not know how to do before), with a woman who lives in India that was seeking marital counsel.
I have journeyed 45 minutes away from my home as my husband and I counseled a married couple that I met through this blog.
I've received emails from wives from around the world asking me if I would either call them on the phone so they can get some help or if I could respond to them via email.
Social media is here to stay, friend. And if you feel like an old dog who can't learn how to do new things…..my story is an example of what God can do through you if you're willing to be used by Him. With an open and teachable heart we can embrace social media and use it to advance the Kingdom of God. REACH will tell you all the ways you can do this and it'll address the pitfalls as well.
If you're a blogger, you need to read this book!
If you're on Facebook, Twitter, Youtube, Pinterest, etc, you need to read this book!
If you want to learn more about social media, you need to read this book!
If you're reluctant to embrace social media, you need to read this book!
If you're addicted to social media, then you need to read this book!
So, if you'd like to win a copy of this wonderful ministry tool, then just enter the raffle below and you just might be the winner!
To purchase the book, you can find it here.
Live a poured out life for Christ,

Did you enjoy reading The Alabaster Jar?